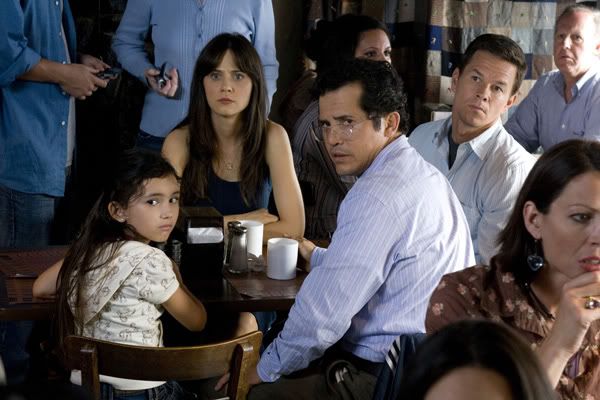 Best film lists are so boring. Sadly I didn't watch as many terrible movies as last year, but here are some stinkers that I managed to catch, arranged roughly in order of terrible to mind-blowingly awful.
Vantage Point
Okay, this one was awful mostly because the "twist" was so utterly predictable. If the interest in your film lies almost entirely on a gimmick, it's best not to telegraph the big reveal from the start. The ridiculously out-of-character behaviour that makes the ending possible is as hard to take as a deus ex machina. This could have been enjoyable action schlock; instead, it's the kind of movie that makes you yell "No shit!" at the screen.
Sample dialogue: "We hate the American pig-dog capitalist dog-pigs for no apparent reason! Curse them and their many cola brands!" (Okay, this is not an actual line, but it might as well be.)
Semi-Pro
It's abit unfair to lists this because I only watched the first 15 minutes before turning it off in favour of something that was funny. If your comedy doesn't make me laugh in the first ten minutes, you're in trouble, buddy. And I really like Will Ferrell; I loved
Anchorman
. Sadly, this is pretty much
Anchorman
but without very good jokes. I guess Ferrell thought the crazy fashions were enough?
Sample dialogue: "Cock sandwich, that hurts!" (How many hours of improv did it take to come up with that?)
Dan in Real Life
My hatred for this movie might be partially caused by the fact that I saw it at the cinema. Okay, we had free tickets, but there was no escape! I couldn't even go and get something to eat to distract me. (We are not the kind of people who leave movies. Nor are we the kind of people who leave the theatre for anything less than a medical emergency.)
This film was an attempt at a quirky indie family film. It was like a robot saw
Little Miss Sunshine
and decided that this seemed like an easy template. Cute kids + kooky family + depressed people + love = box office gold! Unfortunately this robot, despite being able to make such sophisticated computations, was only able to produce sentimental goop in place of genuine sweetness. I made the "finger down throat to induce vomiting" sign many, many times. I would have groaned loudly and yelled at the screen but the people around me seemed to be enjoying the film, especially the painful attempts at physical comedy.
Also, Dane Cook is in it.
Sample dialogue: "Love is not a feeling, Mr. Burns. It's an ability."
"Instead of telling our young people to plan ahead, we should tell them to plan to be surprised."
"There's rightness in our wrongness."
VOMIT

The Happening
This is #1 on a lot of Worst lists this year. I'm finding it difficult to express how bad this film is.
Grug and Lee saw this in the cinema, because they hate M. Night Shyamalan so much that they like to maximise their pain. (It's a sickness.) They came home and described every detail of the movie to me. I was prepared for it to be bad, but I was amazed at how bad it sounded.
So when I came to watch it at home, I thought I was prepared. I was wrong.
I'm sure by now everyone knows the plot. It's a plot so stupid it honestly sounds like an Ed Wood film. And honestly, if it weren't for the fact that The Happening is filmed with proper cameras, you could easily take this for the kind of film featured on Mystery Science Theater. The kind where you turn to the person beside you and say, "Why would anyone make this? And who would go and see it?" The script is wooden and stupid to the point of hilarity. The acting is astoundingly bad-- Mark Wahlberg and Zooey Deschanel are actors I really like, but it's going to take a while before I can look at them and not think of them woodenly discussing the emotional implications of tiramasu. (Look at the photograph above. They keep those expressions throughout the entire film. I can only assume that Syamalan injected them with tranquilisers whenever they showed sigsn of acting.)
The thing that made me angriest, though, is the film's anti-science agenda. Did science kill Shyamalan's parents? Does he resent it for creating the Internet, the place where he is most mocked? Because he has a raging hate on for science. Wahlberg plays A SCIENCE TEACHER who tells everyone that science is about accepting that there are things we can't understand:
Elliot Moore
: Come on, buddy. Take an interest in science. What could be the reason bees have vanished?
Jake
: [
after a long pause
] An act of nature, and we'll never fully understand it.
Elliot Moore
: Nice answer, Jake. He's right. Science will come up with some reason to put in the books, but in the end it'll be just a theory. I mean, we will fail to acknowledge that there are forces at work beyond our understanding. To be a scientist, you must have a respectful awe for the laws of nature.
No, Mr Moore, that's faith you're thinking of. Not science. That's why science comes up with, for instance, malaria vaccines, instead of saying "That disease that's killing everyone sure is mysterious. I guess it's God's will or something!"
The film doesn't really have an ending, it has something even lamer than a deus ex machina: a completely unexplained escape for the main characters, and then the most pathetic attempt at a twist I have ever seen.
Also, all the reviews are right: the
death by lions
is the most (unintentionally) hilarious death in film.
Sample dialogue: "You know that everyone gives off energy, right? It's scientifically proven. They got these cameras that can record what color you are when you're feeling different things. People that are angry give off a different color than people that are sad. See this ring? This ring can supposedly tell you what you're feeling. Let's see what you're feeling right now."